WordPress is simplest CMS. Small kid can understand and use this CMS, But sometimes we need guideline for better understanding and  use. I know  ninety-nine percent techies already know WordPress.  WordPress is not only good blogging platform, it is very easy to customize as per our need.  For customization there are plugins, theme, and widgets.
So for you guys who need a reference i have listed out best collection of WordPress books . Hope these books will help you to learn WordPress CMS.
Digging Into WordPress
Digging into WordPress is a beautiful book, every page of the book is printed with stunning digital-color precision on gloss-finish paper, with each of its 12 chapters color-coded to provide quick and easy navigation. With its large, clear typography, each page is easy on the eyes and easy to read.
WordPress In Depth written by Bud Smith and Michael McCallister.  This book is aimed at beginners but near the end, provides ample opportunity to explain themes and plugins a little more in-depth providing a stepping stone to not only more advanced topics, but advanced books as well.
Kindle Price: $13.19
Price $15.21
Teach Yourself WordPress in 10 Minutes
Teach Yourself  WordPress in 10 Minutes gives you straightforward, practical answers when you need fast results. By working through its 10-minute lessons, you'll learn everything you need to build great blogs with WordPress and WordPress.org. Coverage includes quickly building blogs for free using  WordPress.com, managing blogs from the Dashboard, customizing blogs to fit your message, creating more powerful text and media content, attracting visitors via search engine optimization, moderating comments and building communities. Setting up RSS feeds, hosting your own blog with WordPress.org software, earning ad revenue, using analytics to measure blog performance. Integrating with Twitter and social networking sites, delivering content via iPhone and BlackBerry, streamlining publishing with third-partytools, and much more.
Kindle Price: $5.40
Price: $11.69
A Step by Step WordPress Tutorial for Beginners
A Step by Step WordPress Tutorial for Beginners is written by Mati H Fuller, for people who want to create a blog with as little technical mumbo jumbo as possible.
In this book explain What, Why and How to do it in WordPress, in a thorough, step by step tutorial. A Step by Step WordPress Tutorial for Beginners is written in simple English, So easy to read.  Through this book you learn how to create a self- hosting blog.  How to install WordPress with just a few clicks of your mouse. With help of this book you personalize the your blog and change the theme.
In your Final result will be a set-up blog site that people will be able to find post after you write your first post.
Kindle Price: $ 19.95
Price: $ 17.58
Building a WordPress Blog People Want to Read
 Building a WordPress Blog People Want to Read is written by Scott McNulty.  In this book you learn Install WordPress and get your WordPress site running.  You can set up your site to ensure it can easily grow with you and your readers. You can manage your site with WordPress Dashboard and extend its capabilities with plugins.  You able to work with pages, templates and links and publish your posts.
In final you manage your blog site with hepl of this book.
Kindle Price:$10.61
Price: $20.61
WordPress for Business Bloggers

WordPress for Business Bloggers will take you beyond the basics of WordPress. This book is witten by Paul Thewlis. You learn from this book is build a custom theme. You examine different type of business blogs.  From second chapter of book you learn  case study blog and go through the process of developing strategic goals and your blog plan. In third chapter of book is the basics of blog design and work through a brief introduction to HTML and CSS. You will see how easy it is to create your own custom design using the Sandbox theme.  In last from this book you learn your basic blog into a more advanced and professional blog as quickly and painlessly as possible.
Kindle Price: $14.39
Price: $34.00
How To Be a Rockstar WordPress Designer
 How To Be a Rockstar WordPress Designer covers pretty much everything to do with theming, with three main examples: a blog, a portfolio and a general purpose site. There's lots of general knowledge, ideas for how to manipulate WordPress in other ways and the book comes with all three themes to use and dissect.  This book will teach you how to make theme like a professional themer with a solid understanding of HTML/CSS. You don't need to know PHP, you don't need to have ever even touched WordPress before. The examples begin from scratch and build on each other, while basic PHP principles that are used are explained in an easy to understand manner.
Price: $29.00

WordPress 3 Site Blueprints  is written by Heather R. Wallace.  This book isn't designed for beginners, those with even an intermediate knowledge of WordPress will be able to get these sites up and running in no time. Each chapter is devoted to the design of a different site, there's no need to read the book in any particular order. Instead, you can pick and choose the blueprints that are of the most interest to you and dive right in.  While some experience with WordPress is required to get the most from this book, if you can install themes and plugins, you should be able to follow these easy-to-understand WordPress blueprints. Some knowledge of CSS and HTML will be beneficial, but experience with PHP is not required.
Kindle Price $14.39
Price $34.35
Professional WordPress Plugin Development
This comprehensive book shows you how plugins work, reviews the tools and APIs available in WordPress, and demonstrates how to extend the functionality of WordPress with plugins. In this book authors provides a practical, solutions-based approach along with a collection of timely examples and plenty of code, all aimed at clearly explaining how to create a plugin file, work with users, integrate widgets, add menus and submenus, secure your plugins, and more. You will quickly come to understand how to develop custom plugins so that you can take WordPress to the next corporate and enterprise level.  In last with help of this book  you can easily develop custom WordPress plugin.
Kindle: $17.39
Price $24.35
WordPress Plugin Development (Beginner's Guide)Â 
WordPress Plugin Development (Beginner's Guide) is Written by Vladimir Prelovac . This book  cover some of the best plugins available on WordPress to generate unique and dynamic content.  This book Walk through the development of six complete, feature-rich, real-world plug-ins that are being used by thousands of WP users. Book describe step-by-step instructions with an emphasis on experimentation and tweaking code.
Kindle: $14.39
Price $34.37
WordPress 3 Plugin Development Essentials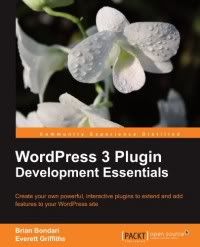 WordPress 3 Plugin Development Essentials covers everything you need to know to develop your own plugins for WordPress. How develop your own  plugins and release your plugins to the WordPress community. Avoid common mistakes made by most plugin developers by learning more advanced development patterns. Integrate with third-party APIs and web services. To learn this book  you customize WordPress Dashboard with menus and administration panels for your plugin. in last with help of this book, you can develop your own plugin and released on WordPress community.
Kindle Price: $18.29
Price $34.35
  WordPress 3 Ultimate Security is written by Olly Connelly.   which aims to help you make sure your WordPress installs are as protected as you can make them. Security is often one of the most intimidating pieces of running your own site.  This book help to aims to help you harden your WordPress installs, resulting in a more stable, longer lasting website powered by WordPress.
Kindle Price: $22.79
Price: $49.99